This past weekend I was able to get out of the office and handle some work in St Louis by helping our minority recuiter at a few National College Fairs. I was so excited to get out of Morehead for a couple of days even if it was for work. Two things that I absolutely love about traveling is 1) seeing how others live in their city, and 2) the food! Let me tell you, there was some really good food on this trip.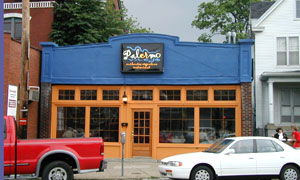 Palermo Viejo on Bardstown Road

I guess I'll start with the food first. Friday night, we had dinner at this Argentine spot called
Palermo Viejo
in Louisville. ThanksYelp! My coworker and I had a pitcher of traditional Sangrea with chunks of fresh fruit soaked in cognac. To eat I had the Salm
ó
n - grilled salmon based in chimichurri sauce with roasted red potatoes and fresh veggies. The tomato basil garlic & havarti cheese empanadas my coworker had are still on her mind! I definitely recommend this place when traveling near Louisville.

Alwatan on Klondike

The next day we had a couple of stops in the Louisville area and then grabbed lunch before driving to STL. I decided to go with the Chicken Shawarma with safron rice at
Alwatan
, a Mediterranean restuarant. It came with fresh tossed salad with olive oil dressing and two large pieces of pita bread. The amount of food they give you can feed a family of 4 so I still have some left overs. Next to Banana Fosters, Baklava is my favorite dessert...I got two pieces for $3.
Once we got to STL it was dinner time. We hit up this little Mexican spot called Rosalita, but the kitchen was closed so thanks agina to Yelp!, I found this place accross the street called
Lucus Park Grille
.
The best crab cake of my life!
For the rest of the trip I ate some home cooked food thanks to my coworkers family. Her mom and grandmom cooked us catfish, hot water corn bread, fried green tomatoes, spaghetti and southern green beans. I was so full and happy from this trip I don't even know how I managed to drop some lbs.
On top of their being some great food the people were so nice...and the gentlemen are some lookers, lol. We entered STL and drove past the statium as the Cardnials won the last home game. And we let the day after they beat the Brewers at Milwakee to go to the World Series. Being in STL with all of this going down was so exciting. It reminded me of home a two seconds. I was in Northern California when the Giants won the World Series last year, but to be in the actual city of the team is a more energetic vibe.